Sleep Therapy
Continuous Positive Airway Pressure (CPAP) & Bi-Level Positive Airway Pressure (BiPAP) Therapy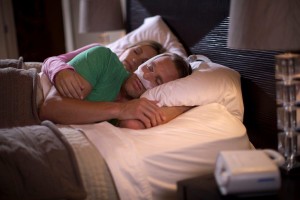 Obstructive Sleep Apnea is a large and growing problem across the country And is a common and potentially serious sleep disorder, the two common types of sleep apnea are obstructive sleep apnea where the throat muscles relax, and central sleep apnea, when the brain doesn't send proper signals to the muscles that control breathing. The most common treatment for obstructive sleep apnea involves a sleep test followed by CPAP and BiPAP therapy. These therapies are non-surgical, painless and easy to use. At Respiratory Plus Healthcare we offer a great selection of CPAP, Bipap machines and masks, with the latest comfort technology from major manufacturers and customer guarantees that take the uncertainty out of treatment. Proper treatment with a CPAP or BiPAP can ease your symptoms and may help prevent heart problems and other complications. If you think you might have any form of sleep apnea, talk to your doctor and then see our respiratory experts about the getting the CPAP or BiPAP machine that will bring you better sleep and better health today.
SELECTION: We carry CPAP and Bi-level products including machines, masks, humidifiers, filters, cushions, from top manufacturers, including Respironics, Fisher & Paykel, ResMed and DeVilbliss. Providing the largest variety of CPAP machines and CPAP masks, we want YOU to make choices about your sleep therapy and try the newest products on the market.
30-DAY COMFORT FIT MASK GUARANTEE: A proper fitting mask is crucial to success with CPAP therapy therefore Respiratory Plus Healthcare offers a 30 Day comfort fit mask guarantee. The guarantee allows a customer to exchange their mask for any reason should it not be satisfactory within 30 days of purchase. This takes the uncertainty out of mask selection. (Masks issued for replacement will be of equal or lesser value, certain restrictions apply, see store for details)
SET-UP GUARANTEE: Being diagnosed and treated for sleep apnea can be a long strenuous process, we strive to get customers set-up on their therapy as rapidly as possible.
Respiratory Plus Healthcare works with Medicare, Medcaid, and most insurance providers for billing sleep therapy. In addition we accept Mastercard, Visa and Discover, Cash and Personal Checks. (With proper ID) This gives our customers the ability to make insurance co-payments, and purchases not covered by insurance securely and easily. We have equipment to meet anyone's needs and budget.
We accept existing Cpap Patients from Other Providers
Click Here to Transfer to Respiratory Plus Healthcare