Respiratory Services
Home and Portable Oxygen for Respiratory Patients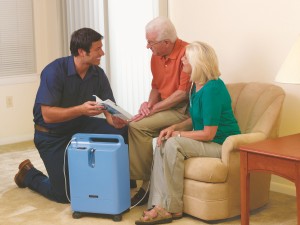 Respiratory Plus Healthcare is a leader in both medical home oxygen and portable oxygen in the eastern Kentucky area. We serve patients with a host of respiratory disorders including COPD, emphysema, lung illnesses and congestive heart failure.
We rent, deliver, setup and offer instruction on home oxygen and supplies including oxygen tanks, tubing, carts and tubing. Respiratory Plus Healthcare offers todays health technology and advance in lightweight and efficient oxygen concentrators.
We Offer Home Overnight Pulse Oximeter Testing Using a Medicare Approved, Independent Diagnostic Testing Facility (IDTF)
Your doctor may prescribe overnight home oximetry as an initial evaluation to screen for Sleep Disorder Breathing and Respiratory Diseases in the home. Overnight home pulse oximetry is a painless test to monitor and record the level of oxygen in your blood as you sleep. These home oximetry tests take place in the patients home. During this test, an oxygen sensor is clipped to your finger and connected to a machine called an oximeter that measures and records your heart rate and the level of oxygen carried in your blood.
COPD Diagnosis and Treatment
COPD slowly damages your airways, the breathing tubes that carry air in and out of your lungs. COPD makes airways swollen and partly blocked by mucus. It also damages in the tiny air sacs at the tips of your airways. This makes it hard to move air in and out of your lungs.
There is no cure for COPD, but there are good treatments: Taking COPD medications which can include pills and inhalers, Home Oxygen Therapy, pulmonary rehabilitation programs where exercise and COPD management are taught, quit smoking and staying away from smoke and air pollution.
We accept existing Oxygen Patients from Other Providers
Click Here to Transfer to Respiratory Plus Healthcare